Arthur State Bank
Categories
Financial Services
About
Our History
In early 1933, newly elected President Franklin D. Roosevelt closed all the banks in the United States for a period known as a bank holiday. The purpose of this closing was to give each institution time to evaluate whether or not it was properly capitalized and in proper financial health to remain open. Only one bank in all of Union County was found to be that strong and it was in Jonesville, SC.
In the city of Union, 33 year old Harry M. Arthur went to his father with a problem. He owned a chain of department stores, a chain of hosiery mills, and herds of cattle, but there was no banking facility close at hand. His father, J. D. Arthur, had banking expertise, having been a cashier of a bank before his retirement. Harry Arthur along with his father and two of his brothers formed the Arthur Depository on April 1, 1933. Two years later, the Depository became a Bank and the rest as they say, is history.
Originally guided by the sound principles and humanitarianism of Major General Harry M. Arthur, the bank has prospered and been recognized nationally for its safety and soundness. "Money" magazine has named Arthur State Bank in the past, as one of the hundred safest banks in the United States. More recognition was received when a California writer, completely unknown to the bank, obtained copies of the bank's quarterly reports to federal regulatory agencies under the Freedom of Information Act. With this information he named Arthur State Bank as one of the twenty-four safest banks in the United States in his book "What To Do When Your Bank Fails."
Carolina State Bank, formerly called Chesnee State Bank, first opened its doors on August 30, 1932 in Chesnee, SC. It was purchased by the Arthur family during the 1950's and has become a financial mainstay in the community over the years. A second branch was established in Clinton, South Carolina on October 2, 1997.
In 1934, all the banks in Woodruff, South Carolina had closed because of the depression. On March 1, 1934, General Arthur established the Woodruff Depository in the same building that became the home of Woodruff State Bank. In the 1940s, the Depository Charter changed and the institution became Woodruff State Bank. General Harry M. Arthur was President and Chairman of the Board, a position he held until his death in 1988.
On December 12, 2000, Woodruff State Bank changed its name to Pinnacle State Bank. The bank's new name was chosen by two customers in a contest to rename the bank. Pinnacle State Bank still remains in the Arthur family and has three locations in Woodruff, SC and one in Roebuck, SC that was established on May 23, 1996. In the Fall of 2003, The Affiliated Family of Banks – Arthur State Bank, Carolina State Bank and Pinnacle State Bank combined their assets and resources to become one financial institution known as Arthur State Bank. Arthur State Bank now operates 18 locations in Union, Spartanburg, Greenville, Lexington, Clinton, Woodruff, Roebuck, Rock Hill, and Columbia.
It was General Arthur's philosophy that a customer is not an interruption in our work, he is the reason for it. General Arthur taught his bank family the true meaning of these words. He genuinely cared about people and constantly sought ways to provide the financial services needed so the people could prosper. Serving customers throughout South Carolina for nearly 85 years, Arthur State Bank continues to operate as one of the state's oldest family-owned and operated community banks.
The General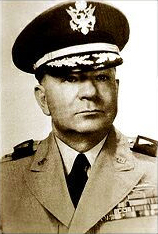 Harry M. Arthur graduated from the Citadel, the Military College of South Carolina, at the top of his class in 1921. A veteran of World Wars I and II, he devoted a total of thirty-eight years to his country as a citizen soldier. General Arthur received major decorations from both the United States and the Republic of China. He retired as a Major General on October 1, 1959 after a meaningful contribution to the defense of our nation.
General Arthur was a philanthropist and an industrialist. He combined knowledge and unlimited energy to become president of a chain mercantile operation and President of the South Carolina Bankers Association. He was very active with the South Carolina National Guard Association and a recipient of the Distinguished Public Service Award from the South Carolina Department of the American Legion.
As evidence of his great contribution to his alma mater and the credit reflected thereon, The Citadel conferred upon him the degree of Doctor of Military Science at their graduation exercises on May 29, 1965. After establishing Arthur and Woodruff / Pinnacle State Banks then purchasing Chesnee / Carolina State Bank, General Arthur became President and Chairman of the Board of each bank. General Arthur died in February 1988 at the age of 88. Carolina State Bank and Pinnacle State Bank both merged with Arthur State Bank in 2003. All three banks are now known as Arthur State Bank, which is still owned and operated by the Arthur Family.